Fill out the form
Verify your info
Submit
Watch for verification email
What's next?
1. Verify your entries above.
2. Fix your entries or Submit your application.
3. We'll review your application for an Edvocator fundraising membership.
4. We'll contact you with an email.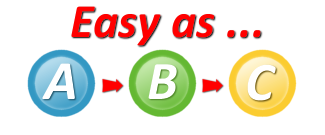 Click on a school's fundraising site.
Buy what you normally buy.
Support the school--it gets cash from every purchase.
"Easy school fundraising --
without asking for a single penny!"
School fundraising doesn't get much easier than this. You don't ask for money, you fill out no forms, you manage no inventory -- instead you simply tell people about your Edvocator website.
Your website acts like its own fundraising site. It has links to Edvocator partner online stores. These stores help with your fundraising efforts by offering a percentage (3 - 8%) of each sale to the website that sends people to their store (
See a demo school fundraising site
).
It's really quite simple to begin your Edvocator school fundraising program. Complete the form so we know about your school and who to contact. We'll review your information then activate your Edvocator fundraising membership. Again your membership includes a custom website for your school fundraising efforts.
Once your account is activated, we'll contact you with an email. Then you can update your fundraising profile with a logo, custom thank you phrase for your Edvocator website, and more...